Pediatric Eye Health
Seaside Eye Associates in Myrtle Beach provides comprehensive eye care for infants and pediatric patients as well as adults.
Many parents are uncertain of when to bring their children to the eye doctor. At Seaside Eye Associates, we see patients of all ages starting at infancy. Below is some general information about our pediatric and infant programs.
---
WHAT IS SPECIAL ABOUT CHILDREN'S VISION?
According to the American Optometric Association (AOA), as much as 80 percent of learning occurs through a child's eyes. Reading, writing, and chalkboard work are just a few visual tasks children must perform daily. However, experts say 5 to 10% of pre-schoolers and 25% of school-aged children have vision problems. Early identification of a child's vision problem can be crucial because children often are more responsive to treatment when problems are diagnosed early.
WHEN SHOULD KIDS HAVE THEIR EYES EXAMINED?
According to the American Optometric Association (AOA), infants should have their first comprehensive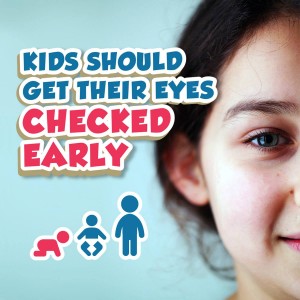 eye exam at 6 months of age. Children then should receive additional eye exams at 3 years of age, and just before they enter kindergarten or the first grade at about age 5 or 6. When scheduling an eye exam, choose a time when your child is usually alert and happy.
WHAT IS AN INFANT EYE EXAM?
Infant's vision develops and changes quickly during the first few years. Infants are beginning to detect movement and use their visual skills. Early detection and management of vision problems is recommended to provide appropriate vision development and health. Although babies may not be able to read an eye chart, specialized procedures have been developed to allow us to measure the clarity of sight of children at almost any age.
We participate in the InfantSEE program which is dedicated to early detection and treatment of vision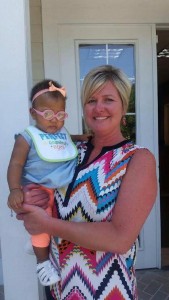 problems in infants. A complete evaluation of the visual system in infants is possible through the use of age-appropriate targets and tests. Call our office for more information and to schedule your baby for an appointment.
WHAT DOES A PEDIATRIC EXAM ENTAIL?
A comprehensive eye examination will assess visual acuity, refractive status, ocular health, eye tracking, eye focusing, and eye teaming. Visual acuity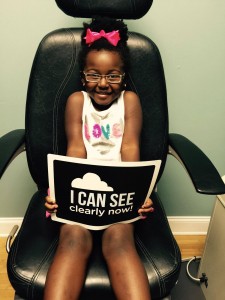 measures how clearly a child sees objects. Refractive status measures for nearsightedness (myopia), farsightedness (hyperopia), and astigmatism. The child is evaluated for any eye health problems, including active pathology or congenital anomalies. Eye tracking is the ability of the eyes to fixate, smoothly follow and look between objects or printed words. Eye focusing is the ability to efficiently change and sustain focus while reading. Eye teaming is the ability to coordinate both eyes accurately and without fatigue or excessive effort. Accurate eye teaming is also important for accurate two-eyed depth perception or stereopsis.
SIGNS FOR PARENTS THAT YOUR CHILD MAY BE HAVING VISION PROBLEMS
Sometimes recognizing a child's vision problems can be difficult because children often do not realize that his or her vision is not normal. Below are several signs that your child may be having trouble seeing.
Squinting, closing, or covering one eye
Constantly holding materials close to face
Tilting the head to one side
Rubbing eyes repeatedly
One or both eyes turn in or out
Redness or tearing in eyes
Premature birth
Developmental delays
Family history of "lazy eye" or "thick glasses"
A disease that affects the whole body (such as diabetes, sickle cell, or HIV)
PEDIATRIC SUNWEAR
Don't forget that children need sunglasses too. Just as you wouldn't send your little ones out without sunscreen and a hat, you should always remind them to protect their eyes from the sun as well.
At Seaside Eye Associates, we provide BanZ polarized sunwear for children from infants up to 12 years of age. This Australian company really knows their sun protection and provides fun designs coupled with quality protection.
Learn more about them here.
---
Your eye care provider at Seaside Eye Associates will work with you to diagnose pediatric vision problems and suggest the best treatment option for your family at our optometric office in Myrtle Beach. For more information, schedule an appointment with your eye care provider, and we'll be in touch with you shortly.